Musical Instruments Made Of Aluminum
by Michael I. Holmes
Copyright © 1997, 2011 by Michael I. Holmes. All rights reserved, not for reproduction.
---
The information here is extracted from an unpublished manuscript of the "Encyclopedia Of American Musical Instrument Makers." Copyright © 1997 by Michael I. Holmes. Not for reproduction.
---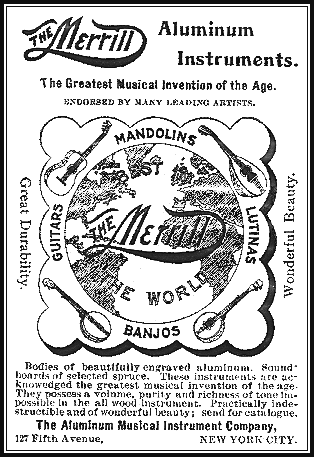 Musical instruments were one of the earliest known commercial uses of aluminum. Although aluminum is among the most plentiful metals in the earth's crust and its existence was known in Biblical times, its chemical identity wasn't discovered until 1746 and the first pure aluminum ingot was not extracted until 1855 when it was exhibited at the Paris Exposition. The acoustical properties of the metal were identified early but it wasn't until 1886 that the first American patent was issued to Charles Martin Hall for a cheap method of extracting the metal.
That same year, Neil Merrill began experimenting with making musical instruments from aluminum. Instruments of the day were fragile and difficult to make; the back of a Neapolitan mandolin might consist of as many as 64 separate strips of wood. If aluminum proved suitable, several manufacturing problems could be eliminated. He experimented for several years and from 1894 to 1898 the Aluminum Musical Instrument Company catalog listed guitars, mandolins, fiddles, banjos and zithers under the Merrill brand. They had bodies made of aluminum with wooden tops and necks. Merrill's company was first formed at Philadelphia and later, circa 1895, moved to New York City.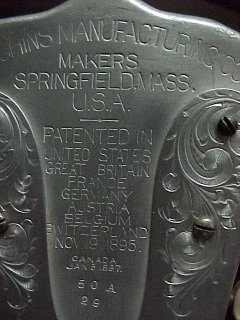 In 1896 the C.W. Hutchins Mfg. Co. was formed at Springfield, MA to manufacture aluminum bodies for mandolins and guitars. Also in 1896, the Barrows Music Co. of Saginaw, MI, manufacturers of the WALDO line of instruments, sued the Aluminum Musical Instrument Co for non-payment on an 1895 contract to put heads and necks on 500 aluminum bodied mandolins and guitars. Later, in 1898, attachment proceedings were entered against the Aluminum Musical Instrument Co. in the name of Erland Anderberg (probably son of Ernest) of Mt. Vernon, NY, for failure to pay on a similar contract. The company was sold at auction to pay debts.
It is reasonable to assume from these several pieces of information that Merrill didn't actually have a factory, but instead, contracted all the work out to others. Hutchins may have made all the bodies, the necks and tops being shared, by Barrows in 1895 and by Anderberg in 1897. Aluminum front and back mandolin.
In 1900, there is mention of a travelling piano salesman named Neil Merrill who was being sought for falsely selling used pianos as new. It is not known whether it was the same man; there was a Merrill Piano Company.
Alfred Springer of Cincinnati, OH patented an aluminum violin in 1891 which was well received and played to critical acclaim both in the US and abroad. The Springer Violin was machined from aluminum with top, back and sides of metal; only the neck and fittings were wood. In 1894 the John Church Company announced they were working on an Aluminum violin of their own, built by the Imperial Company, Church's small instrument manufacturing arm. At the same time inventor Francis Ramacciotti announced his experiments with aluminum for piano strings.
In turn of the century England, Stroh used aluminum for the horns on their "phonofiddles" an attempt to amplify stringed instruments using the same principle as contemporary phonographs. In 1910 Edgar l'Allemand, a Milwaukee, WI violin maker, revived the interest in aluminum violins, but on a small, handmade scale.
A notice in the December, 1914 Music Trades magazine stated that William Koelpin, Milwaukee, WI had made an aluminum violin while in the process of testing an aluminum solder he invented.
Aluminum bass violins were made and sold in the 1930s & 40s (see mugwumps v6#2) and The Boston Pops orchestra had one for many years. An article appeared in 1932 Etude about aluminum basses. Thanks to Keith Cary for the lead; he wrote "...Some, more inferior, apparently, were made in Germany and riveted together. The American ones were welded."
Several aluminum bodied violins, painted to look like wood -- grain lines and all, have been seen. All bear the label Aluminum Musical Instrument Company, Ann Arbor, MI, the date, c1932, and a serial number.

Aluminum in modern instrument making:

Attention Webmasters: You are welcome to link to this page from your website, crediting the source, but you may not copy it or any part of it, and post it at your site. Thank you for your cooperation.